Greek Dressing
Get your Greek on. Our organic, plant-based Greek dressing is filled with savory aromas that carry you away to where olives are picked straight from the tree. We start with premium cold-pressed extra virgin olive oil (EVOO) and season it with lemon juice, garlic and oregano. Go ahead, put good on good and feel great about it.
Ingredients
Filtered Water, *Cold-Pressed Extra Virgin Olive Oil, *Unfiltered Apple Cider Vinegar, *Lemon Juice, *Minced Onion, *Minced Garlic, *Oregano, Grey Sea Salt, *Hemp Seeds, *White Chia Seeds, *Black Pepper
*Organic
May Contain Sesame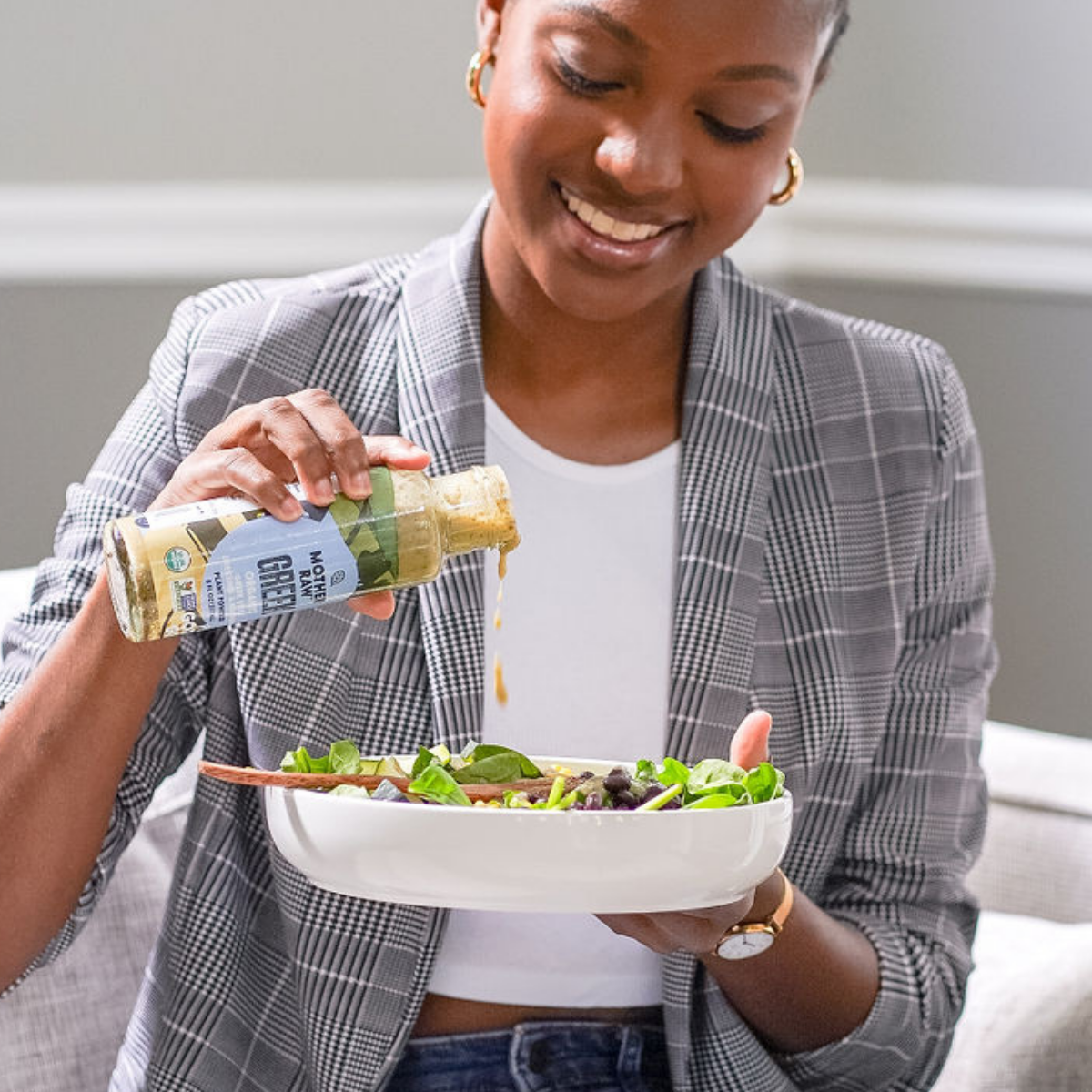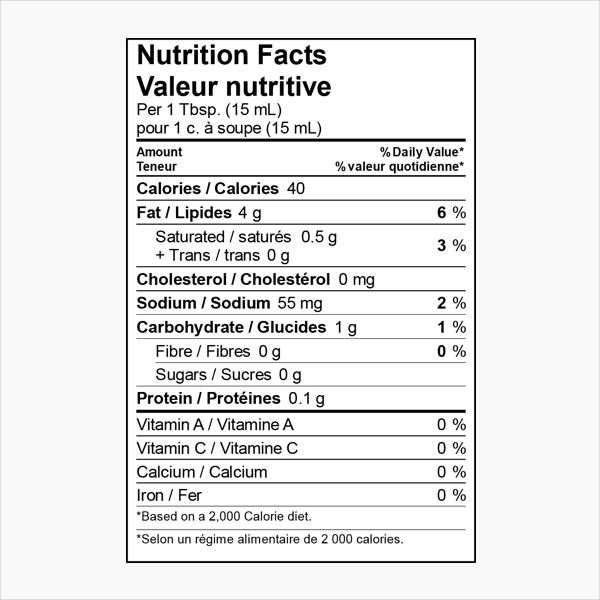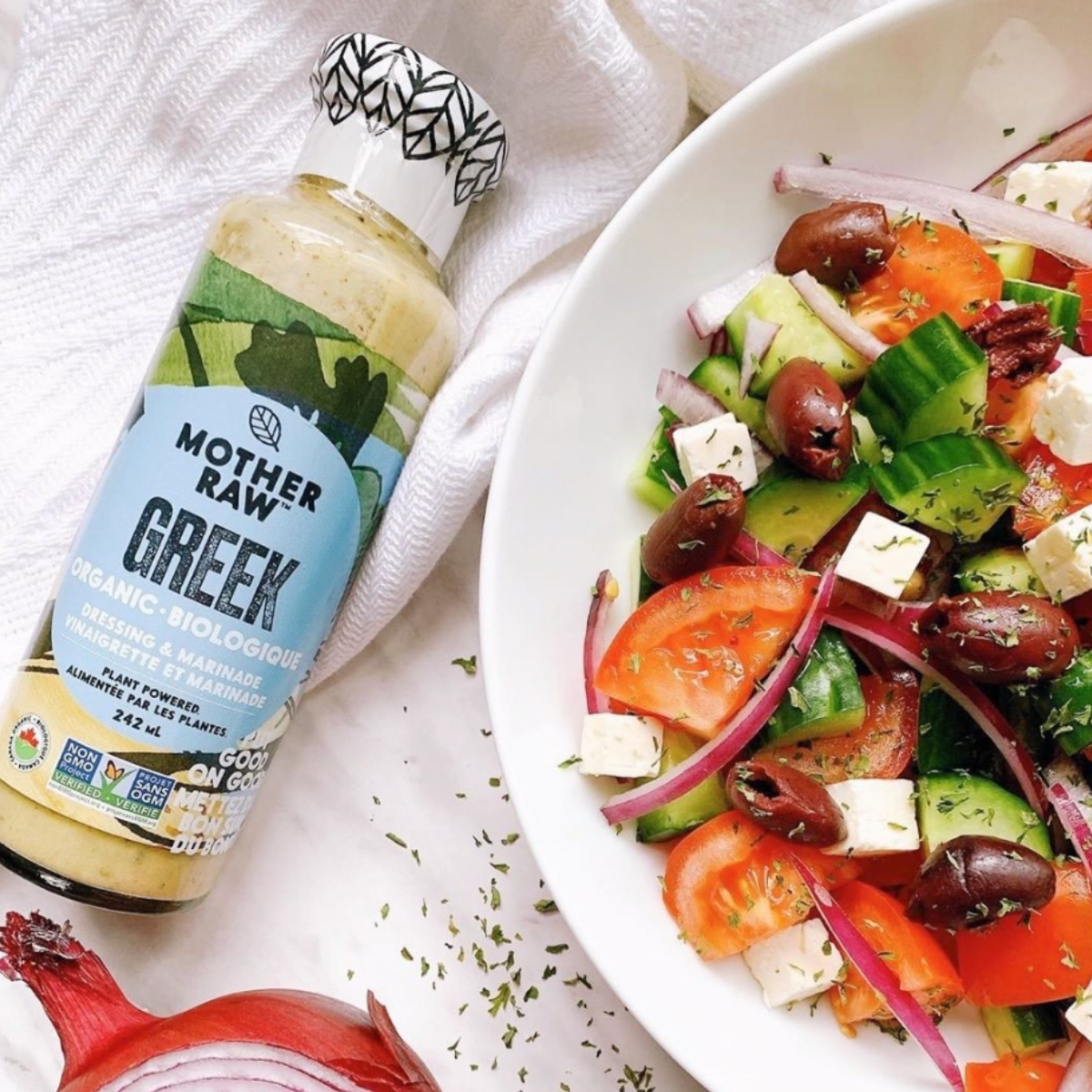 I really loved the flavour of this dressing - It was exactly what I imagined Greek dressing to taste like! I also love the ingredients - They are very simple and recognizable. I disliked the texture of the dressing. Even after shaking it, it was very thick and I had to scoop it out of the bottle. This also made it difficult to distribute over my salad. In the future, I think I will try adding some more oil to the dressing to thin it out.
Really enjoyed this product fresh ingredients and healthy alternatives. So many different flavors to choose from. 😋 I would recommend this product
I am a huge fan of fresh refrigerated salad dressings. This one tasted really good. I love the ingredients. My only concern with it is that it is so thick it's hard to pour out of the jar. It's even hard to shake up. I would recommend may be leaving it out of the fridge for 20 minutes before using it. I can't wait to try some other flavors!
This one was really tasty! I tried the Greek flavour because my location only carried Greek, Ranch, Caesar and Japanese flavours, and from looking at the ingredients, the Greek one sounded delicious and great for pairing with feta and a salad! I will definitely be on the lookout for their other flavours like Mediterranean, Italian and Poppyseed. I really liked that they are refrigerated dressings and it poured out well (after a good shake, as instructed). Glass bottle is perfect too, and great for recycling or reuse. I really like the fresh, clean ingredients in it (and taste) and that it is plant based, organic and free from artificial stuff and other irritants. I actually feel good eating this! I do find it is a little strong on the garlic, a bit overpowering, and since I try to avoid a lot of onion and garlic, I will continue to use this in small amounts and as a marinade too, but definitely a go to dressing in my fridge now, and I've already told family and friends to try it! If it's possible, some onion/garlic free or substitute ones would be great too!
I received it through test a product and then give honest review.I like it due to its taste and organic ingredients.Yes it's healthy and can be used with snacks as well for cooking