REAL ingredients
Over-Processed is Over-Rated
You'll find Mother Raw in the refrigerated section, alongside fresh produce, where dressings belong.
From nature

We keep it close to the earth, carefully selecting each ingredient from the best and purest Mother Nature has to offer.

Clean

We keep our products obsessively clean. With zero tolerance for crap, what we leave out is as important as what goes in.

Consciously crafted

Minimally processed to maintain the integrity of our food and certified by the highest objective standards of care.

Crave-worthy

We strive to make make our products ridiculously delicious and provide you with recipes to experiment with different ways of using them.
What we put into our products:
We use plant-based ingredients nurtured by Mother Earth herself, giving her gorgeous bounty the respect it deserves. We select the best of her including organic, non-GMO plant-based ingredients, that are wholesome, healthy and do justice to your favourite dishes.
Olive Oil

We love Olive Oil because it tastes delicious and is packed with health benefits. That's why we only pick the best Olive Oil for our products, which naturally hardens and separates when chilled. So make sure you give our products a good shake when you take them out of the fridge. 

Apple cider vinegar

We only use organic, unrefined, apple cider vinegar. That beautiful golden colour you see means it's rich in natural bacteria that's good for gut health, has depth of flavour and brings out the best of your food. It's Mother Earth at her best, helping preserve our products naturally.

Hemp Seeds

Small but mighty, hulled hemp seeds are little powerhouses packed with protein, omega-3, omega-6, fiber, magnesium, zinc, iron, and GLA containing anti-inflammatory properties. We heart hemp for being a superfood that naturally thickens our dressings.  

Spices

Our promise is to never put anything fake or artificial in our products. So, why do our dressings taste so lip smacking good? We use Mother Nature's natural bounty to create depth and layers of flavours with organic spices. As a bonus, many of these spices like turmeric have health benefits.

VEGGIES & Herbs

Red bell peppers, dill, parsley, tomatoes and roasted onion and garlic are just some of the ways we tantalize your tastebuds while sneaking in all the healthy stuff. We take the best of Mother Earth's bounty when crafting our wide range of products, so you can sit back and enjoy!

Green Banana Flour

We like to get creative in the kitchen, enter green banana flour. It is simply made with milled organic peeled green bananas and lends a creamy texture while being allergen friendly. A bonus? It is environmentally friendly and low-waste, as these green bananas would otherwise go unused.
What We Leave Out of our products:
Our philosophy on ingredients is simple.
If you can't pronounce it, if it's a top allergen or if it's over-processed - we don't use it.
Nut Free

Gluten free

Soy & Canola Free

Dairy Free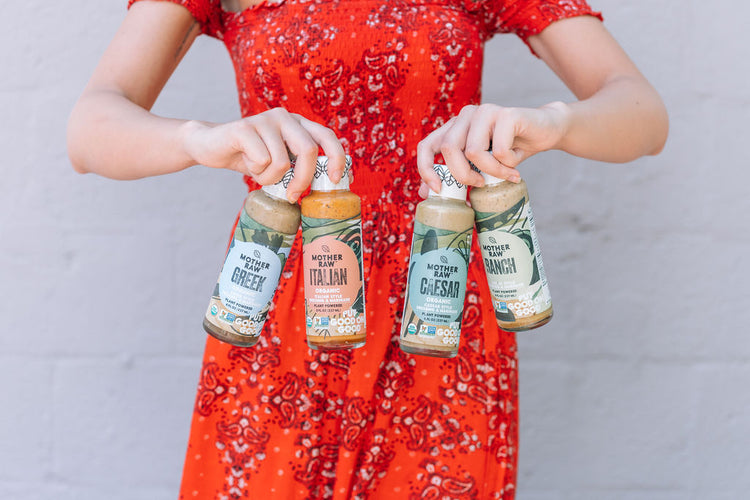 Pure and Unadulterated
Our products are never heated, depleted or mistreated™.

Can you believe that some store-bought salad dressings are cooked during the production process? Many also contain ingredients we can't even pronounce.

To keep our ingredients at their peak, we only use our cold-blending method so you can put good on good and feel great about it.